Bus Route Information for parents is available via Parent Portal. If you do have a Parent Portal account you can contact, the Bus Garage directly at the number below or at transinfo@cppasd.com. We do not send letters to individual homes with transportation information.
Need to contact us? Call or email District Transportation Office at 962-2493 between 9a.m. and 3p.m. or email transinfo@cppasd.com
Schedules are also available on Parent Portal under the Transportation Tab. If you do not have an account contact your child's school main office for information.
Weather closure / delay communications will be on the Website as an Alert, a push notice on the CPP App and on local TV and Radio. We will also use these methods for other closures due to emergencies such as a water main break that causes a school to close or delay. Read about our process here.
Stopfinder App:
The CPP Transportation Department has launched a new transportation app for parents called Stopfinder for the upcoming school year. Stopfinder is an easy to use app that allows you to have the most accurate information about your child's bus schedule at anytime from anywhere. In addition to displaying your child's transportation information, Stopfinder features push notifications and a private messaging feature that will allow you to communicate directly with the Transportation Department. The Transportation Department has emailed invites for the app. If you need information please contact the Transportation Office at transinfo@cppasd.com.
Below are links to helpful information about the app:
Learn more via this video link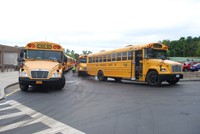 Larry Eccleston
Director
leccleston@cppasd.com
Bus garage address: 2666 Goff Rd Corning, NY 14830
Phone: (607) 962-2493